Dead by Daylight™ Delights Anime Fans with its Attack on Titan Collection Available Now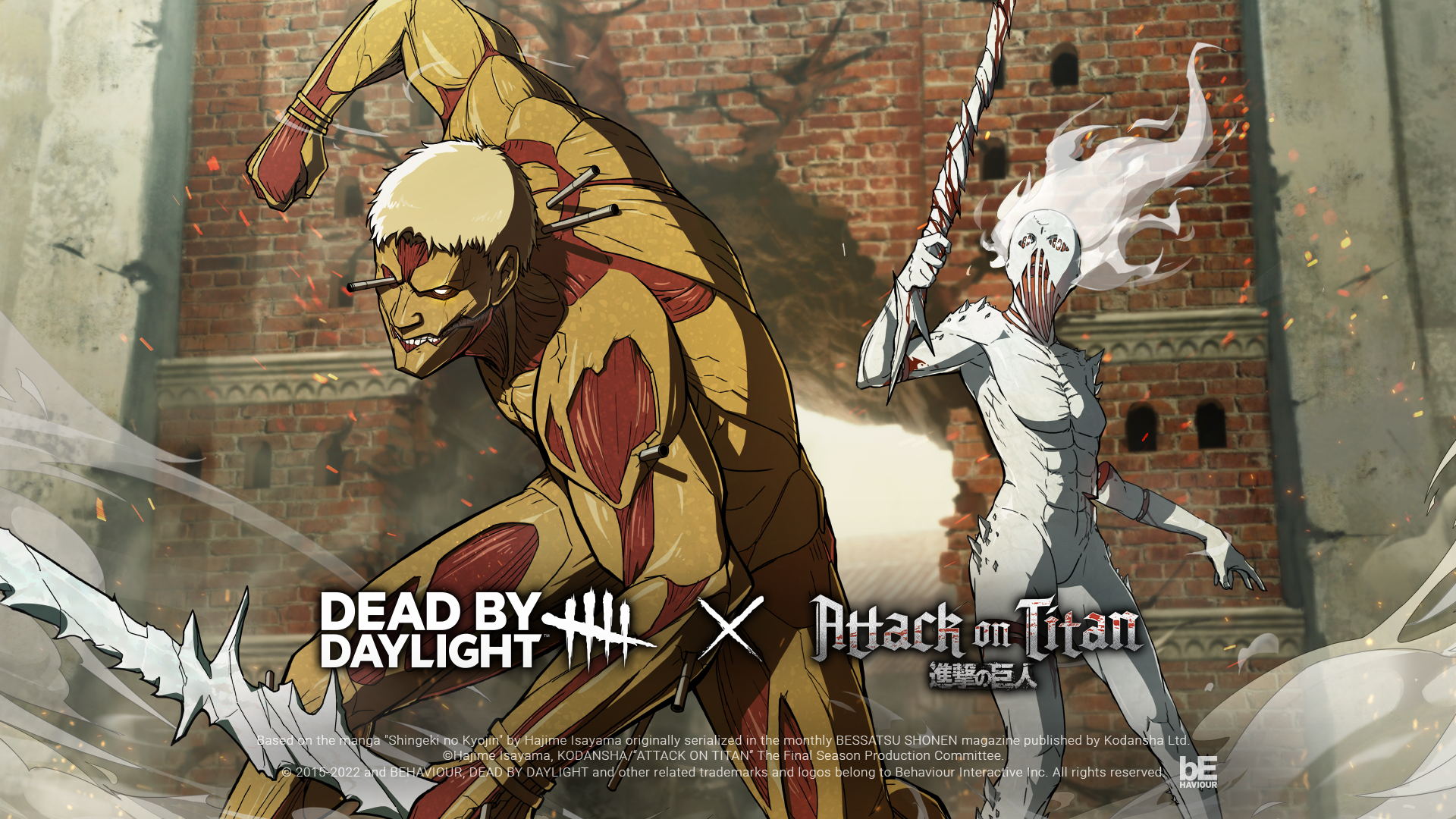 Montréal, Canada—July 19, 2022— Today, Dead by Daylight launches its first exclusive anime crossover with global phenomenon Attack on Titan in the form of a 10-Outfit Collection. Starting now and until July 26th, 2022, a special sale will take place on select Outfits. And to further celebrate this anticipated release, players will be able to enjoy daily rewards in-game.
A Beautiful and Merciless World
​Created by Hajime Issayama, Attack on Titan is undisputedly one of the world's most popular manga series of all time and has been adapted to magazines, novels, live-action series, and video games.
The Japanese award-winning creation is a sweeping odyssey set in a futuristic world that addresses themes of war, vengeance, morality, fairness, and kindness. It takes its readers on a fantastic voyage to Paradis Island, where humans live within three concentric walls to protect them from Titans, humanoid giants whose sole goal is to destroy them.
"The anime's visuals and narrative had a significant, lasting effect on many of us. We are excited to introduce cosmetics from this critically acclaimed universe.", explains Dave Richard, Creative Director for Dead by Daylight. "This is one of our heftiest Collections, with 10 Outfits designed for both Killers and Survivors. Our approach to assimilating the iconic 2-D anime into our 3-D world was thrilling and challenging as we wanted to honour the original art direction while remaining true to the essence of Dead by Daylight. We are so very proud of this Collection and we can't wait for fans to get their hands on the Outfits."
The Story Unfolds
​This Collection features eight Very Rare Outfits for Survivors and two Ultra Rare Outfits for Killers. Fans will be happy to dress Dwight Fairfield in Eren's Uniform, Yui Kimura in Mikasa's Uniform, Felix Richter in Armin's Uniform, Meg Thomas in Annie's Uniform, Zarina Kassir in Hange's Uniform, Jake Park in Levi's Uniform, Kate Denson in Historia's Uniform and Ace Visconti in Kenny's Uniform. On the Killer Side, fans will be able to get their hands on The Armored Titan Outfit for The Oni and The War Hammer Titan Outfit for The Spirit.
"When we develop game cosmetics, we look at each Outfit as an opportunity to tell a story. They are visual representations of the lore and backstories unique to each game character," says Xavier Etchepare, Art Director for Dead by Daylight. "The Attack on Titan Collection was exciting in that we were melding realms and genres. We asked ourselves how our characters would respond if they were thrown into this universe? Who would they most resemble?"
The team analysed the psychology of each Attack on Titan characters and their individual journeys were considered: a bandage here, a torn sleeve there – all direct references to events happening in the manga and the anime.
"An Outfit is much like a snapshot-- a moment in one's life immortalized. We really dug deep into the backstories of each character to make each Outfit as representative of their emotions or values as possible," explains Rose Li, Project Manager in charge of the Dead by Daylight in-game store. "For instance, Historia's cloak, as seen on Kate, is meant to reflect her kindness as it is worn to visit an orphanage in the anime. We could have picked many different Outfits for Kate to wear, but we wanted to reflect that core value that she shares with Historia Reiss. The Collection is chock-full of such details. "
There's No Winning Without Fighting
​Starting today, fans will be rewarded aplenty. As such, anyone who logs into Dead by Daylight will be gifted the Cadet Corps Crest Charm to display in game. Four other exclusive Charms are made available whenever a certain number of Outfits are purchased through the in-game store. These include The Scout Regiment Crest, The Military Police Regiment Crest, The Garrison Regiment Crest and the Wall Titan Charm.
Fans would be remiss not to take advantage of the sale available for certain characters as well as the daily rewards available through July 26th 2022.
---
About Dead by DaylightTM ​
​Created by BehaviourTM Interactive, Dead by Daylight is a multiplayer action horror game of hide and seek, set in a dark fantasy and drawing from all corners of horror, where each match is a different experience. Dead by Daylight boasts more than 50 million players both globally and across all platforms. On any given day, up to 2 million players step into The Fog, whether on PC, console, or mobile. Since its release in 2016, the game has become a place where cult classic horror survives and thrives, having welcomed legends from TV, movies, and video games. For more information, please visit deadbydaylight.com.
About Behaviour™ Interactive ​
​Behaviour Interactive was founded in 1992 and is Canada's largest independent game developer and publisher with offices in Montreal and Toronto. In 2022, it expanded its international presence with the acquisition of Seattle's Midwinter Entertainment. Celebrating its 30th year, and with nearly 1,000 full-time employees, the studio has enjoyed immense success with its original IP Dead by Daylight, which now has more than 50 million players around the world and across all platforms. Behaviour holds co-developer credits for some of the gaming industry's largest titles (such as Assassin's Creed, Gears 5 and Tony Hawk Pro Skater 1 & 2) and developed an unparalleled, award-winning culture within the gaming industry. Winner of Deloitte Canada's Enterprise Fast 15 and Best Managed Company awards and listed one of the Best Places to Work – Canada by GamesIndustry.biz in 2021, Behaviour is a leading development studio cultivating career growth and talent development within the gaming industry. Behaviour counts among its partners some of the world's most renowned brands, including Microsoft, Nintendo, Sony, and many more. For more information, visit: bhvr.com.
© 2015-2022 BEHAVIOUR, DEAD BY DAYLIGHT and other related trademarks and logos belong to Behaviour Interactive Inc. All rights reserved.
Based on the manga "Shingeki no Kyojin" by Hajime Isayama originally serialized in the monthly BESSATSU SHONEN MAGAZINE published by KODANSHA Ltd. ​
​©Hajime Isayama, KODANSHA/"ATTACK ON TITAN" The Final Season Production Committee.
---
For media inquiries and game review codes:
Vicarious PR
​Liana Murphy
​[email protected]
Behviour Interactive
​Aude Laliberté
​[email protected]